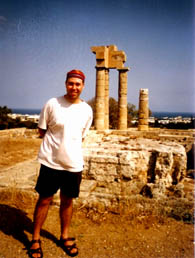 This is my personal site to share all my experience in my busy life. I hope that you will enjoy your stay and next you can fine a bit more about me. I will also try to provide investment management services to mutual funds, hedge funds, pension plans, endowments, foundations and high net worth individuals.
Alto saxophonist/composer Travis Sullivan is originally from New Hampshire, where he studied both alto saxophone and classical piano from an early age. After studying with tenor saxophone master George Garzone, Travis moved to NYC to attend the Masters in Jazz Performance program at Manhattan School of Music. In 1999 Travis recorded his first CD "As We Speak" followed shortly thereafter with "Live at the Internet Cafe." Since then Sullivan has established himself as a leader and sideman in a variety of musical projects, most notably the sax-bass-drum trio Anti-Elevator Mission and his latest project the Casual Sextet.
Travis' credits as a composer and arranger include an array of works for big band and chamber ensembles. His composition "Last Tango in NYC" was recently recorded for an upcoming CD by the eclectic NYC quartet The Four Bags, and in March 2003 his arrangement of Joni Mitchell's "Turbulent Indigo" (written with Anna Dagmar) was featured in an all-Joni Mitchell concert at NYC's Symphony Space.
Travis has performed and/or recorded with many excellent musicians of note, including Matt Wilson, Joe Williams, Clark Terry, Ben Allison, Jeff Hirshfield, Scott Lee, the New York Voices, George Schuller, and the New York Voices.